First, toss what you no longer need. Second, sort all your miscellaneous items by categories, then store them accordingly. You can use plastic containers for storage and label each one depending on what's inside. For example, slap the label "Electronics" on a container filled with cords, chargers, etc.
I don't like holding onto miscellaneous items I don't need in my daily life, but I know that many people do, including my mother. And she always wonders what to do with all those small items at home.
If you also wonder how to organize miscellaneous items, buckle up because I wrote a guide on how to keep all those items in order for you and my mother, so you don't dump everything into a drawer.
What Qualifies As a Miscellaneous Item?
Miscellaneous represents all those items that come from different sources such as books, office supplies, makeup, electronics, batteries, and instruction manuals.
Other examples of miscellaneous items include current convertors, flashlights, shoe polish, brushes, computer tool kits, lint rollers, lip balms, keychains, coupons, spare buttons, electronic chargers, or adapters, extension cords, glues, envelopes, etc.
At first glance, all these items don't seem to have a specific order, but you can still organize miscellaneous items and store them accordingly in separate containers.
How to Organize Miscellaneous Items: Step-by-Step Guide
I figured that splitting miscellaneous items by categories is probably the best way to keep them well-organized.
Start by collecting every miscellaneous item you have laying around your home and determine categories for each.
That way, you can easily see if you have duplicates of certain items and toss those you no longer use or need.
Step 1: Collect All Items in One Place
When I say collect all your miscellaneous items, I mean collect EVERYTHING. Grab all your office supplies such as pens, pencils, notepads, etc.
Gather all miscellaneous items of different kinds into one place and prepare yourself for editing. I know it sounds crazy to collect all pens or cords among other items, for instance, but once you start sorting, you will reap the benefits.
Step 2: Edit All Items You Just Collected
Go through every single item that you gathered. And what I mean by this is check if pens still work or sharpen dull pencils.
Toss anything that's no longer functional or necessary. For instance, discard broken paper clips, empty pens, broken pencils, etc.
Keep in mind that clearing all the clutter is a major part of organizing miscellaneous items, so you have less to store away.
Step 3: Sort All Items Into Categories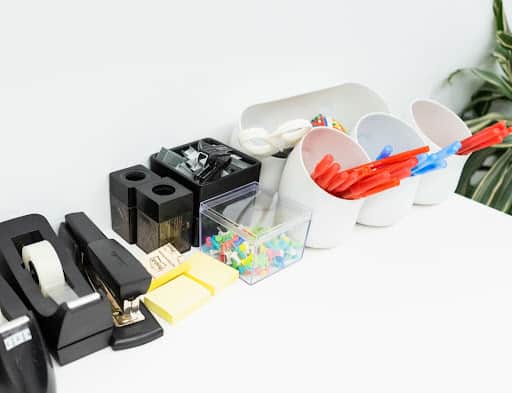 Once you have everything checked, start grouping your items by categories.
For instance, place all pencils together along with other office supplies. Sorting can help you see what you have, so you can conduct any extra edits if necessary.
Sometimes, you might have more of one item that doesn't need to be duplicated or tripled. Moreover, organize by logical order. In simpler words, find a common theme among miscellaneous items.
You can use whatever theme you prefer. Here are some ideas:
Category 1: Electronic Miscellaneous Items
Keep all your electronic items such as chargers and adapters, current converters, a computer tool kit, extension cords, and extra headphones in one place.
Category 2: Paper and Supply Miscellaneous Items
Place all your paper items such as instruction manuals, coupons, registration cards, scissors, threads, twine or cord, super glues, stamps, and envelopes in one spot.
Category 3: Practical Miscellaneous Items
Ensure your practical miscellaneous items such as batteries, flashlights, hardware tool kits, and keychains have a dedicated category as well.
Category 4: Clothing and Shoe Repair Miscellaneous Items
Place all your clothing and shoe repair items such as lint rollers, safety pins, sewing kit, patches, spare buttons, eyeglass repair kit, and shoe polish in a separate place.
Category 5: Beauty and Personal Miscellaneous Items
Last but certainly not least, make a dedicated category for your beauty and personal items such as lotions, nail files, lip balms, bobby pins, souvenirs, spare coins, etc.
Once you have your items sorted into categories, you can start thinking of places in your home where you would keep such items. Here's a short guide on how to select the right storage place.
Where to Store Miscellaneous Items: 5 Storage Ideas
When storing miscellaneous items, I suggest keeping all similar things together. So, all necessary and functional tools should go together.
The reason why I suggest this is because you will not only limit the number of items you no longer need but also make extra storage space for future items.
I personally have made a tool station in my basement for my tools, so when they're not in use, I keep them in drawers and plastic containers for future use.
If you have many crafting supplies, you can keep those together in a dedicated spot as well. If you're out of ideas, here's how you can do it:
Electronic Items
You can keep all your electronic items in your home office or computer workstation. Plastic containers work best for storing almost anything.
Therefore, invest in clear containers in which you can place all your cords, chargers, etc. And don't forget to label the containers as "electronics".
Paper and Supply Items
Paper and supply items can be kept in a kitchen drawer or home office drawer. Pick a drawer that's big enough to hold your instruction manuals, coupons, scissors, and other supply items. You can also store them in a plastic container.
Practical Items
I recommend that you keep your practical items in your pantry, home office, kitchen drawers, or hallway. It's always a good idea to have spare batteries, flashlights, and keychains nearby.
Clothing and Shoe Repair Items
You can keep all your clothing and shoe repair miscellaneous items in a container in your hallway, bathroom, bedroom, or drop zone.
Beauty and Personal Items
Keep all your beauty and personal miscellaneous items in your bedroom, bathroom, etc. As for travel miscellaneous items, you can store them away in your workstation or bedroom until your next adventure.
Maintenance is the Key to Keep Everything in Order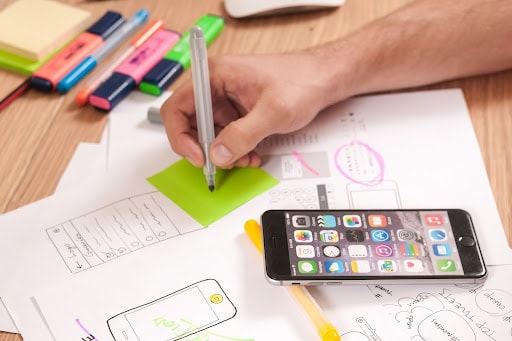 If you maintain your organizational system and place all new miscellaneous items in their dedicated spot, you will never have to deal with a messy home ever again.
Also, every time you use something from one category, make sure to put it back and if you notice something that you haven't used in a long time, you can either toss it or give it to someone who might need it. In other words, declutter over time as well.
Extra Storage Solutions for Miscellaneous Items
The following tools can take your organizational game to the next level, so definitely take a look and pick the storage solution that seems the most practical to you.
Door-Hanging Sleeves
Every task of organizing can be a breeze with a door-hanging sleeve with pockets. I highly suggest buying one as it's super versatile and can be used for storing various miscellaneous items such as pantry items, charging cords, cleaning products, etc.
Vacuum-Sealed Bags
If you have too many miscellaneous items such as blankets and personal items you no longer need, you can store them away in vacuum-sealed bags.
Bakeware Holders
For homeowners with many kitchen miscellaneous items, bakeware holders make a great addition.
They can hold your cutting boards, cupcake tins, and other miscellaneous items you typically throw in a kitchen cabinet and pray they don't come crashing down the next time you open the door.
Magnetic tape
You can fasten a roll of magnetic tape inside your drawers to collect all those bobby pins, nails, and batteries. It's also great for mounting different objects such as whiteboards, etc.
Storage Ottoman
Not only will a storage ottoman keep all your books, magazines, sweaters, blankets, and sheets, but will also provide extra seating in your living area or bedroom.
Drawer Organizers
I love drawer organizers because they keep drawers neat. So, go ahead and obtain a couple of drawer organizers to keep all your desk accessories, utensils, or tools in order. They're budget-friendly, practical, and available in different sizes, colors, and materials.
Hanging Jewelry Organizer
Hanging jewelry organizers with pockets and hook closures can save you space and keep your jewelry and other personal miscellaneous items organized at all times.
Put your rings, necklaces, earrings, and bracelets in separate pockets and save the hooks for hanging long necklaces, scarves, etc.
Waterproof Cord Case
Wrapping cables into drawers can turn into a mess so I suggest buying a waterproof case that will keep all your chargers, adapters, and other cords safe.
FAQs on How to Organize Miscellaneous Items
How to Organize Hair Ties?
You can organize your hair ties with carabiners as your wrist can only hold so many. I also suggest buying a hanging jewelry organizer with pockets, so you can place all your hair ties in one dedicated pocket. A regular cup can also do the trick.  
How to Organize Miscellaneous Items in the Kitchen?
You can easily declutter your kitchen counters with a fridge rack that will store your dish rags, paper towels, salt ad pepper shakers, and other miscellaneous items.