A drop zone is that place in the home where people drop items like umbrellas, shoes, accessories, or grocery/shopping bags that you're bringing inside, and then organize them around the home accordingly.
Some people confuse a drop zone for a mud room, but they're actually different.
Back in the old days, a mud room was considered a place where you would hang up your messy or muddy outdoor gear.
The mud room eventually transitioned into what we today know as a drop zone. It's no longer a place for dirty outdoor gear or cleaning your pet after a walk but also for temporarily storing things like shoes, shopping bags, etc.
In other words, it's a catch-all for everyday items you're bringing into your home but can't unload at the moment.
Now, let's learn more about drop zones and determine if they're worth the effort.
How To Make a Drop Zone in a House?
Most people thought of a drop zone as a classic mud room since they're both small rooms usually situated in a secondary entranceway, used primarily to remove boots, coats, and wet clothing that can invite mud or water into the home.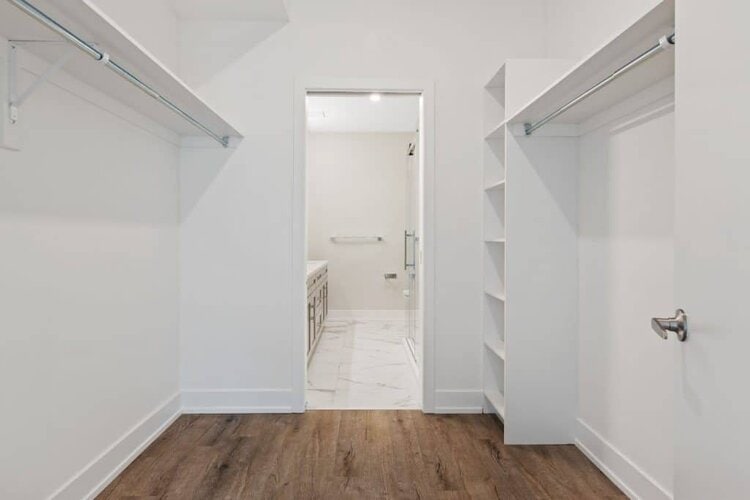 Over time, people have changed their views on drop zones. In fact, they've become much more than mud rooms. Nowadays, drop zones serve the purpose of storing all the common items people bring into their homes from the outside world.
Millennial homebuyers prefer homes with drop zones. They're a trend among young people because they're convenient for storing almost anything including backpacks, keys, shoes, coats, mail, lunch bags, purses, leashes, umbrellas, etc.
Overall, drop zones aren't just piles of unnecessary stuff. On the contrary, they must be organized with cubby systems, drawers, and/or cabinets to function properly.
The best part? They're usually visually pleasing, unlike mud rooms which can be an eyesore. If you're ready to create your drop zone, here's a list of creative yet simple and functional ideas you can use to help it blend with the rest of your décor.
Pick the Perfect Spot
First and foremost, you should find the right spot for a drop zone.
Think of the entry hallway or garage and ask yourself if a drop zone would work in those areas of your home. Imagine every entry point of your home as a drop zone and pick the spot that you believe would make a useful drop zone.
If you live with more people, opt for a place that's easily accessible to everyone in the household.
Common places people place drop zones include back hallways, garages (the spot right outside the door leading into the home), garages, entryways, kitchens, etc.
Install Wall Hooks
Once you find the perfect spot it's time to turn it into a drop zone by adding multiple wall hooks.
Take advantage of the vertical space and provide a place for hanging purses, hats, coats, and other accessories without cluttering up your counter.
I highly suggest installing deep hooks so backpacks and bags with bulky straps can hang easily.
Add Practical Cabinets
If you're looking for a way to build hidden storage inside your drop zone, consider adding upper or lower cabinets.
They will not only expand your storage space but also hide out-of-season items like umbrellas, sunscreen, swim goggles, etc.
If you don't like the idea of installing cabinets, you can use cubbies. Or shelves with baskets instead. They're the perfect alternative to cabinets when you're dealing with a smaller drop zone and budget.
How About a Bench?
A bench makes a great addition to any drop zone if the space allows for it.
Therefore, if you don't already have one near your entry door, consider adding it as soon as possible. Trust me, it will change your life. You can sit on it while taking off or putting on your shoes.
It's very helpful, especially after long days at work when you finally arrive home and have a place where you can finally take a breath while taking off your shoes.
The best part? You can place a tray on the bench for temporarily storing your damp boots and umbrellas so they don't end up on the floor and cause damage.
Additional Baskets and Trays
If the bench you have doesn't come with cabinets or storage space underneath, you can place stylish baskets under it for shoe storage.
Baskets can also serve as storage for your sports gear. Another thing you can do is add multiple decorative trays on a countertop labeled "Hers" and "His", or whatever you like.
Trays make a great storage solution for keys, phones, sunglasses, purses, etc. You can also use one tray as a mail station while another can keep things you don't want to forget to take with you on your way out.
Consider Personalized Cubbies
If you live with more than 1 or 2 individuals, dropping anything and everything at the door can get very messy very quickly and cause more harm than good.
Therefore, setting up designated areas for each individual's items can help keep the drop zone tidy, especially in households with children. One cheap option that comes to mind is labeled cubes in which everyone can drop off their own items.
Don't Forget Your Shoes
Why have a drop zone in the first place if you can't remove your muddy shoes at the door after a long day at work?
The truth is, whether you're stressed about mud or not, removing your shoes before entering the home is one of the main reasons people build drop zones.
Therefore, having a dedicated place for your shoes is important. You can even keep multiple pairs of shoes near the door for convenience.
Most homeowners typically use baskets for storing their shoes, but I highly suggest a designated shoe rack.
Other options include a small bench with shoe racks underneath, so you can also sit while taking off your shoes, or a simple rug.
Make Sure it's Pretty
Once you're done equipping your drop zone, it's time to make it stylish by hanging a piece of artwork, seasonal wreaths, a mirror, etc.
If you have a small bench in your drop zone, you can throw a few decorative pillows on it and/or a rug underneath. Moreover, if you don't have wall hooks, you can place a stylish vertical coat rack in one of the corners of your drop zone.
When decorating your drop zone, consider the overall interior of the property so you can make it blend better with the rest of your home.
Keep it Tidy
Clean your drop zone at least once a month. If you notice anything that hasn't been used in a while, move it into a closet. Although a drop zone is basically for dropping things off, it doesn't mean it should be a complete mess.
Where to Put a Drop Zone?
When picking the perfect place for a drop zone you should consider both space and convenience. A drop zone doesn't require a very large space unless you prefer a larger drop zone because you have a large family.
Otherwise, a small area will suffice. Think about the usual things you bring into your home and where you could fit those. Also, think about where you usually drop items to determine where you make a drop zone.
Moreover, each member of the family should have a drop zone of their own where they can place their shoes, coats, accessories, etc.
What Do You Put in a Drop Zone?
The following categories of everyday things you can put in a drop zone can help you better plan and organize your drop zone, so definitely take a look.
Small Items
Pick a basket, drawer, or tray where you can drop small things such as bags, small change, sunglasses, keys, briefcases, mail and documents, and wallets.
Clothing and Footwear
Install a bench with a shoe rack where you can keep your running shoes, Wellington boots, hiking boots, and walking boots.
Wet weather gear such as rain coats, caps, hats, umbrellas, sweaters, beanies, and scarves can be dropped in baskets or trays, or hung on coat racks.
Sports Gear, Toys, and School Items
Always have a storage space in your drop zone for balls and other sports gear, pet leashes, pool toys, backpacks, and sleeping bags.
Also, don't forget about school items such as books, musical instruments, projects, and lunch bags, if you have kids in the household.
Electronics
Make space for your electronic gadgets such as cell phones, tablets, and laptops as well.
Miscellaneous
Other things you can keep in a drop zone include swimming costumes, slippers, pet grooming equipment, towels, cleaning chemicals, blankets, brushes, and rags.
How Much Does it Cost to Build a Drop Zone?
A drop zone could cost you thousands of dollars or zero dollars.
Most homeowners pay between $8,000 and $16,000 for a 50-square foot drop zone addition, but you can repurpose a second-hand closet or desk into a drop zone and save money.
Drop Zone vs Mudroom in House: What's the Difference?
Mud rooms became very popular in the early 20th century and gradually turned into drop zones with a more inviting appearance and underfloor heating.
People prefer drop zones over old mud rooms because they have a dedicated place to sit on a bench when organizing their mail or taking off their shoes after a long day at work.
They also have small desks containing trays and baskets to keep things they "drop" more organized.
Moreover, families prefer drop zones because each member of the family can have a small bin for dropping things.
Lastly, if you have a dedicated drop zone, guests can easily take off their coats and shoes before entering your home.
FAQs on What is a Drop Zone in a House
Does any house have a drop zone?
Not all houses have a drop zone, but you can easily build one if you have space for it by placing a cabinet or desk.
How big should my drop zone be?
The minimal radius of a drop zone should be 13 feet, but you can make it larger or smaller, depending on your site and family size.