You can hide shelves completely by handing fabric in front of them. Make sure to use a fabric that matches the color scheme of your home to make the whole thing look even better and serve as a décor in your room.
Shelves can store all your clutter, but they can also disturb the whole appearance of your living space, bedroom, etc.
If you think of your shelves as the eyesore of your home, you can either decorate or hide them completely using fabric that complements the décor of your home.
Some people hide their shelves with fabric using a tension rod. They slice a piece of fabric that is larger than the shelves, then fold it in half and use a tension rod to hold the fabric in place. It's simple but can be done in many ways.
In this article, I will teach you how to hide shelves with fabric in different ways. I will also share tips on how to wrap shelves with fabric so let's dive right in and turn your shelves into a catchy centerpiece.
How to Hide Shelves With Fabric: 6 Quick & Easy Methods
Covering your shelves with modern doors can be costly, but fortunately, doors aren't your only option.
You can also cover your shelves in other creative ways including fabrics that will not only hide your open shelves but also add pops of color and texture to your home, so let's take a look.
Option 1: Attach Fabric to Open Shelves With Adhesive Strips
If you're looking for a quick solution, glue a piece of fabric to your open shelves with adhesive strips.
First, measure your shelves to make sure the piece of fabric will cover your shelves completely before you cut the fabric.
Second, attach 2-3 adhesive strips over the top of your open shelves, then stick the top of your fabric onto the open shelves.
If you opt for this solution, you will be able to push the fabric to the side every time you want to grab something off the shelves.
Extra tip: If you need to keep the shelves open for a longer time, use a small ribbon to tie the fabric to the side.
Option 2: Use a Tension Rod to Cover Tall Shelves With Curtains
You can cover tall shelves using a tension rod with modern curtains.
First, find curtains that match the height and width of your shelves. Second, attach a tension rod to the top of your shelves and thread the curtains across the tension rod and slide them back and forth to cover and uncover your open shelves.
This solution works great for open and built-in floor-to-ceiling shelves.
Option 3: Hide Low Shelves With a Table Skirt
If you have low shelves that you need to cover, you can use a chic table skirt. Make sure the table skirt you like matches the dimensions of your open shelves.
Once you find a matching table skirt, add the top of the table skirt onto the top of the shelves and allow the excess fabric to hang down over the shelves. Then, adjust the fabric so that it hangs evenly on all sides of your shelves.
If you pick this solution, you will be able to lift the fabric every time you want to take something off the shelves. Table skirts can also look beautiful on small dressers, TV stands, and other similar pieces of furniture.
Option 4: Cover Closet Shelves With Roller Shades
Roller shades can perfectly cover closet shelves. In my opinion, they make a better solution than bulky doors.
So, if you have closet shelves that need to be covered, using a drill, add two shade mounts to either side of your closet.
Then, hook the top portion of the shades into the two mounts with the shades facing outward. Let the shades unfold to cover your open closet shelves. If necessary, add a second shade to cover the whole width of your closet.
You can buy roller shades at any home improvement store.
Option 5: Use Curtains With Hook-and-Loop Tape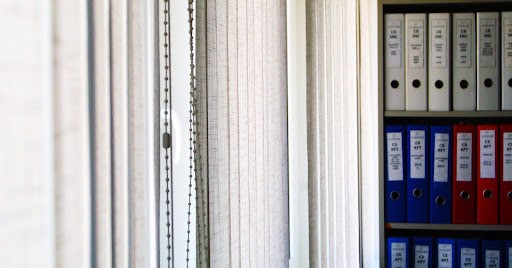 If you don't want to use a regular piece of fabric to cover your shelves, you can also use flat-panel curtains with hook-and-loop tape.
Install one panel per side as well if you have open sides. The completed side panels should match the width and height of the open sides.
Then, install a pair of panels on the front of your shelves, each matching half of their width by their height.
Option 6: How About a Slipcover?
I wouldn't suggest covering your shelves in the living room, bedroom, or other areas of your home in which you're staying.
This solution can cover the contents of your shelves and keep dust at bay in spaces such as garages where you're not concerned about the appearance of your shelving units.
So, if you have shelves that need covering in the garage or other utilitarian areas of your home, opt for a slipcover.
It's a cheap and easy solution. Measure the width and length of your shelving unit's sides, top, and front, and add about 5 inches per measurement.
Cut two pieces of a tent canvas or painter's tarp to the front and side measurements and one piece to your top measurements.
Lastly, sew the pieces together with a 1/2-inch seam allowance and you will obtain a suitable slipcover that's loose enough to slip on/off very easily.
Extra tip: If you're a crafty person, you can also make a decorative slipcover with a modern fabric that will not only cover your shelving unit but also serve as a décor in your living space, bedroom, etc.
How to Wrap Shelves in Fabric: Step-by-Step Guide
If you're not interested in hiding your open shelves but want to decorate them with fabric, take a look at the following guide.
Step 1: Prepare Your Decorative Fabric
Measure the length and width of your shelf, then measure the front edge as well.
Once you're done, cut out a piece of decorative fabric that can easily fold over both sides as well as the front edge of your shelf.
I highly suggest using cotton fabric as it's very thick and sticks well to adhesives. If you opt for a light-colored fabric, paint your dark shelf the same color as your fabric. That way, your shelf won't show through.
If you're looking to create a fun accent piece, you can use a patterned fabric. And if you're interested in a more neutral look, opt for a solid-colored fabric.
Step 2: Apply Modge Podge on Top of Your Shelves
Apply a thin coat of Modge Podge adhesive on top of your shelf. Make sure to cover the whole side so that your decorative fabric sticks to your shelf evenly.
Modge Podge is a popular glue that's available at most craft supply stores, thus you can easily get your hands on it.
You can spray your shelf with a low-tack adhesive as well so you're able to readjust the fabric.
Once you're done applying the glue, line up the edges of your fabric with the edges of your shelf. Leave the end of the hanging over the front side of your shelf, so you can wrap it around and underneath later.
If your shelf has a wooden rim and you're not worried about leaving the bottom part bare, you can also trim the fabric so it only covers the top part of the shelf.
Step 3: Apply Modge Podge on the Front Side as Well
Using a paintbrush, add a thin coat of glue over the edges of your shelf. Make sure to apply it as evenly as possible so your fabric sticks properly.
Then, smooth your fabric down onto the front edge of your shelf. If you come across a stubborn lump, try using a credit card to push the fabric flat.
Step 4: Apply Modge Podge on the Bottom
Apply a thin coat of glue onto the bottom side of your shelf using a paintbrush. You only need a small amount to make your shelf sticky, so don't add too much.
I highly suggest unscrewing your shelf if possible so you don't damage the cabinets or wall behind, but if that's not an option, carefully add the glue on the bottom of the shelf without turning it over.
Then, apply the fabric to the bottom and smooth it down with your hands to remove any bumps or creases.
Keep in mind that the bottom of your shelf will likely be the most visible when hung, so make sure it looks good.
Step 5: Add Modge Podge All Over the Fabrics
Lastly, add a final layer of glue on top of the fabrics you glued down.
You can also add a coat of Modge Podge Hard Coat over the standard one for extra protection.
Leave your shelf dry for about 4 days. Once it's dry, hang it with the uncovered side of the shelf facing the wall.
FAQs on How to Hide Shelves With Fabric
How to Choose the Right Fabric?
Consider the size of your shelving unit, the interior of your home as well as the color scheme, your preferences, and of course, your budget.
How Do You Make Open Shelves Look Good?
If you don't think your open shelves need covering, you can enhance their appearance by adding stuff you use a lot, repackaging dry goods, using baskets to store your things, adding books, art, and seasonal décor, repainting, etc.