Baby clothes can be organized by size, and type, using a specific drawer for each type and closet dividers for each size.
It is essential to have an organized system when it comes to your tiny one's outfits. 
This guide will walk you through the numerous ways you can store and organize baby clothes so that they are not all over the place and you can easily access them.
How to Organize Baby Clothes?
Baby clothes are adorable, but they can prove to be quite a challenge when it comes to keeping them organized. As babies grow, it becomes harder to keep track of what is wearable and what is ready for storage.
Let's look at how to organize them:

Organize by Size
While you may not have bought bigger sizes of baby clothes, it is likely you were gifted some. 
Since babies grow at a rapid pace, these oversized clothes will come in handy at a later stage.

Therefore, you need to keep all the baby clothes organized for each stage of your baby's growth. Your system should place current sizes at hand and older sizes in bins or lower drawers of the closet or dresser.
Organize by Category
Besides organizing the tiny clothes by size, you should also categorize them. 
Pair items that go together for easy access. If you like, you can color-coordinate them for a visually pleasing effect.
Organize them by season and events. You can also categorize similar items in one group. For instance, put together all the onesies. This will help you quickly grab any item whenever you need it.

Assign Drawers for Each Category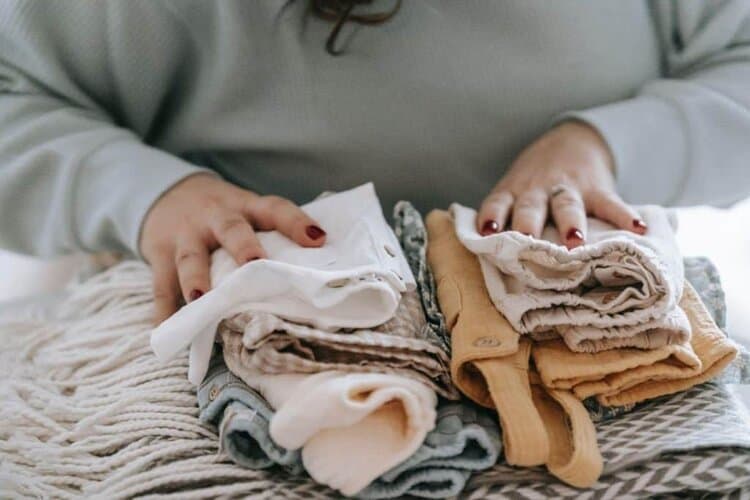 Pick out drawers for each category and label them appropriately. This will help you keep the clothes organized and make it easier to find what you are specifically looking for.
For instance, keep the topmost drawer for diapers and other changing essentials. Assign a drawer for pants and onesies and another for pajamas. 
The bottom drawers are not easily accessible. Therefore, you should place lesser-used clothes like swimwear or backup blankies there.

File Fold in Drawers
Drawer organization can be tricky. Stacking clothes on top of each other in a drawer spells trouble. It is not necessary that you will reach for the top item on the pile each time.
Therefore, file folding baby clothes is a good organization tip for drawers. This will help you easily locate any item of clothing. You will not have to rummage through the drawers.

Also, you can use drawer dividers to keep your drawer well-organized.

Get Closet Dividers
Baby clothes pile up like crazy. Closet dividers help you keep your nursery closet tidy. 
These dividers will help you organize baby clothes according to size and category. You will not have to waste time digging through the pile of clothes for the right item.
Invest in Closet Hangers
A simple way to organize the tiny outfits is to get closet hangers. 
If you have a wardrobe or a nursery closet, you can simply hang outfits on hangers and mount them on the clothes rod.

Use the closet dividers to organize the outfits for easy access. Use baby hangers instead of adult hangers, so the clothes do not stretch out.

Extra Rails for Hanging Space
You may need to add extra rails in the closet to double your hanging space. Additional rails will allow you extra space to hang up the baby essentials with minimal effort.
Use Drawer Organizers
The key to maintaining a well-organized drawer with tiny baby clothes is investing in a drawer organizer. 
You can opt for fabric organizers to neatly pack away baby essentials. This will allow you to swiftly grab items at any time without undoing all your organizational efforts.
Baskets for Storage
If you have limited drawer space, you can use baskets to store everyday items. They are easily movable. 
You can place them on top of the nursery dresser, under the crib, or on a shelf. Organize the clothes in a file fold.
Stackable Containers
Get stackable containers or bins to store your lesser-used clothes. You can place them in the closet or the nursery, depending on the space availability. 
Do not attempt to overcrowd your closet or drawers. Bringing containers or bins into the scene will allow you to store items in a different location, if necessary.
You can also use toy bins to organize your baby's clothes.
Storage Bins for Older Sizes
You do not want to accumulate a clutter of clothes that are too big for your baby to wear. 
You can get storage bins or containers to collect the larger sizes. Label the bins and keep them somewhere easily accessible when the time comes.
You can break these clothes out of storage once the baby reaches the appropriate growth stage and move them into the dresser or the closet.
Storage Bins for Smaller Sizes
Just as you need storage bins for larger-sized clothes, you need them for clothes that no longer fit. Babies outgrow clothes rapidly. 
Once you can no longer use the clothes, you can pack them away in storage bins.

You can either donate them or keep them for future use. Remember to label them appropriately. If you are planning on saving some of the items, you should keep a dedicated bin nearby to store them easily.
If you do not want to hold on to the clothes, keep a dedicated donation bin in the closet. You can empty this bin every month by bringing the items to a donation center to prevent the pile from growing.
Use An Ornament Organizer
An ornament organizer is not only meant to store your seasonal ornaments. It is also a great baby clothes organizer. 
You can pack away the tiny clothes into the small compartments. You can do this for seasonal clothes or clothes your baby has grown out of.

Utilize the Back of the Door
Make the most out of the space available. This includes using the less obvious space in the nursery—the back of the door. 
You can come up with multiple creative solutions to store baby essentials at the back of the door.
One such system includes hanging up a shoe organizer or a wall organizer and propping daily essentials into it. You can stash socks, diapers, tights, etc., in this compact organizer. This is a great way to organize for those on a budget.
Another vertical storage space is the inside of the closet door. You can add a shelving storage system to keep your essentials at hand.
Add More Shelves
You can maximize space in your closet by adding more shelves. Alternatively, you can opt for a cube storage system to fit the extra baby clothes.
Hanging Baskets
A simple storage hack with shelves is to get hanging baskets. 
You can either buy them from a store or DIY the storage hack using cup hooks and plastic crates.
You can also mount wire baskets on the wall to create a shelf. You can easily organize diapers or pajamas in these baskets for quick access.
Get A Utility Cart
If storage space is an issue, you can bring a utility cart into the equation. 
A rolling utility cart will allow you to store your baby's clothes and other essentials using vertical space. You can also easily prop it in the corner of the room and roll it over to the changing table whenever required.
This mobile storage solution is great for quick changes in other rooms. You can simply cart it around the house as required.
Multipurpose Changing Table
If you are struggling for space, purchase a combination changing table. 
A changing table that doubles as a nursery dresser makes for a great storage system to stash essential baby clothes for quick access.
Organize this dresser according to category. Keep the changing essentials and clothes in the top drawer well within reach. Put bulkier items in the bottom drawers.
Organize with Safety in Mind
When organizing the baby's room, you should always keep their safety in mind. Make sure that storage solutions within reach of the baby are safe. You do not want them accidentally pulling on something and getting hurt.
FAQs on How to Organize Baby Clothes 
How often should you sort out your baby's clothes?
Baby clothes come in standard sizes set 3 months apart. When organizing the baby clothes, you should take an inventory and sort out the outfits once in 3 months so you can pack away anything that no longer fits.
How many outfits should you buy for your baby?
You can buy as many outfits as you want for your baby. Since babies grow rapidly, they will quickly outgrow their first outfits within weeks. They also require up to 5 changes in a day. This will give you an estimate as to how many clothes you'll need.