You can either vertically organize your clothes or roll them neatly for easy accessibility. You should also use cubes of different sizes for different things. For instance, use smaller cubes for accessories and bigger ones for clothing.
Most people use closet organizers, fabric drawer separators, plastic containers, and other similar things to keep their closets tidy, but they're expensive.
I personally prefer cubies because they're a lot cheaper and more convenient. If you have already bought a solid set of cubies, I will teach you how to get the most out of your money.
Below, you will find great tips on how to organize clothes in cubes and how to make your cubies look better, so let's dive right in.
Why Use Cubes to Organize Clothes?
Storage cubes became very popular because they're affordable, practical, versatile, and come in different sizes. Let's learn more about cubes and their benefits.
Versatile
If you're looking for a new way to decorate your closet, invest in cubes.
They're very versatile and decorative. You can stack cubes on top of each other, fill up your bookshelves, or add them to cabinets.
When you're not using them for storing clothes, you can repurpose your cubes into nightstands, laundry bars, TV cabinets, home bars, etc.
Accessible
Cubes make clothes easily accessible because they're removable and open-faced, unlike dressers and other storage solutions.
Wide Array of Options
You can buy cubies in many different models, sizes, and colors. The best part? You can easily mix and match different cubes to make a new storage solution.
I personally prefer a transparent and see-through set of cubes because it's easier to find what you're looking for without turning the whole thing into a big mess.
Budget-Friendly
Sturdy and well-designed dressers cost hundreds of dollars, but cube sets come at a very low price, so they're the ideal storage solution for people on a budget.
Moreover, instead of buying a big cabinet, you can start small and keep buying new cubes until you make a grand cube wardrobe that meets your storage needs.
Convenient
Unlike dressers, you can easily move cubes around, carry and stow them. They're so lightweight that even kids can carry them around.
What Type of Clothing Can I Store in Cubes?
Cubes can perfectly store your shirts, pants, innerwear, dresses, purses, hats, and even shoes.
Not only are they available in different materials like plastic, canvas, and jute but also come in different sizes (small, medium, large, and extra large).
So, you can buy cubes in different sizes and use small ones for accessories, socks, and underwear, medium for shirts, pants, and dresses, and large and/or extra large for shoes, etc.
Other Things You Can Store in Cubes
You can keep your cubes in the basement, craft room, garage, or home office, and store things like books, craft supplies, documents, board games, electronics, office supplies, cleaning supplies, etc.
How to Organize Clothes in Cubes: 8 Key Tips
The following tips can help you organize clothes and accessories in cubes and keep them organized at all times with ease.
Use Extra Small Cubes For Accessories
Extra small cubes make the ideal storage solution for small fashion accessories like necklaces, bracelets, rings, and belts that you haven't worn in a while.
So, whether you're planning to use them or wait for the right time to use them again, the best place to store them safe and intact is inside extra small cubes.
Once you're done sorting through your accessories, place the small stylish cubes in your drawers or on your shelves as they won't take up too much space.
Store Your Undies and Socks in Small Cubes
Just like extra small cubes, relatively bigger ones make a perfect storing solution for other small clothing items such as socks, undies, bras, stockings, etc.
Simply roll your small-sized items neatly inside, zip the cube close and keep them in your drawers. Not only will small cubes organize your undergarments but also make them more accessible as you can easily see what's inside each cube.
Blankets and Towels Can Go in Medium Cubes
Medium cubes can help moms organize baby clothes, blankets, and towels. They're medium in size, but they're still large enough to accommodate large-sized items.
Since babies don't stay babies forever, they will eventually outgrow their clothes, so you can use cubes to temporarily store baby clothes until you give them to someone in need of baby clothes.
I also suggest having a separate storage cube for your baby's blankets, burp cloths, onesies, and other smaller items. Pile all of your medium cubes in the closet so you can easily access each when the need arises for you to donate them.
I use medium cubes for storing towels and blankets because I have so many. It's a great way to keep throw blankets nearby for chilly nights by the TV.
Put Your Off-Season Clothes in Large Cubes
Large cubes can hold a lot of large-sized pieces, so you can use them to store out-of-season clothes.
They're durable and easy-to-use space savers in which you can also store your ski gear such as sweaters, jackets, ski pants, etc.
The large cubes will not only keep your closet organized but also keep your clothes safe from moths and insect infestation.
Use large cubes to store summer items such as dresses, shorts, skirts, short-sleeve shirts, sandals, and flip-flops when it's winter and vice versa.
Keep Your Linen in Extra Large Cubes
Extra large cubes can perfectly hold bulky items in your closet such as linens, pillow cases, thick towels, duvets/bed sheets, etc.
I love extra large cubes because they make the perfect linen closet storage solution. The best part? You can also use these cubes for laundry room organization.
Opt For Cubes With Enclosed Design
When storing things away for a long period, dust accumulates.
Therefore, it's smart to use cubes with enclosed designs that will keep your clothes dust-free. Make sure they're fully zipped, especially when putting your clothes away for extended periods.
Don't Store Different Types of Clothing Together
Like goes with like so store clothing items of the same kind in one box. For instance, keep shirts in one cube, dresses in another, jeans in yet another cube, and so on.
Never mix different clothing items together because mixing creates a mess.
For example, if you put shirts and jeans together in one cube, you will probably end up taking everything out of the box and creating a whole mess.
Label Your Cubes and Arrange Vertically
The best way to keep your cubes organized is by putting a label on each cube. You can list the items inside the cubes with tags or sticky notes outside as well.
The labels will not only step up your organizing game but also make your life easier. I would also suggest that you vertically organize clothes in cubes for better results.
In the past, I've folded all my clothes horizontally and stacked them atop each other, but this method backfired every time I was looking for a specific piece. So, I decided to change my folding method.
That's how I found Marie Kondo's Konmari method which includes folding vertically. This video can help you learn how to fold clothes in this manner: The KonMari Fold.
Roll Up Your Clothing Items
When storing items such as underwear, t-shirts, socks, underwear, and knitwear, I highly suggest tolling them.
It's a simple, neat, and space-saving method, so why not? This video can teach you how to roll clothing items easily: How to Roll a T-Shirt For Packing.
How to Make Cubes Look Better: 3 Simple Ways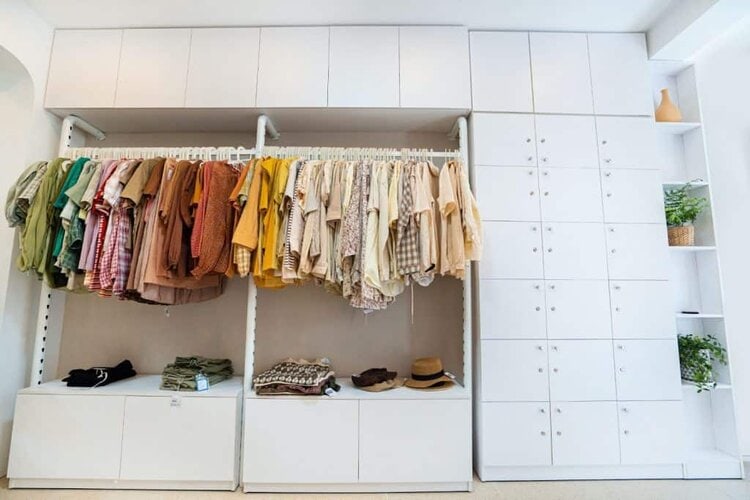 I understand that cubs aren't the most decorative storage solution, but they're doing so much already and they're super cheap, so let's give them a break.
You can make your cubes look better and enhance your interior design in the next 3 easy ways.
Top With Lids
If you don't have cubes at home, opt for ones with lids. Otherwise, top your existing cubes with lids, especially if they're shorter than your shelves, leaving space at the top to see into them.
Use Matching Colors
Another way to make your storage cubes look better is using matching colors.
I prefer grays because they go with most colors so they're perfectly neutral. You can also use complementary colors for a room that pops. Whatever color you pick, make sure you have a plan before you purchase the cubes.
Pick the Right Shelf
Last but not least, you can make your cube organizers look stunning and expensive by using the proper shelf. Opt for a stylish shelf that fits your cubes properly, without any gaps.
Moreover, you can add small legs to the shelf that will pick it up off the ground. The small legs will also protect your cubes from getting dirty.
FAQs on How to Organize Clothes in Cubes
Are Storage Cubes Washable?
You can safely wash storage cubes made of cotton and linen fabrics directly under the faucet. The same goes for plastic storage cubes with clip-on lids.
Is it OK to Store Clothes in Plastic Containers?
Storing clothes in plastic containers is perfectly fine. In fact, plastic containers will keep your clothes protected from moisture, dirt, dust, mold, and mildew.