Amish Cleaning Tonic is a cleaning product that is made of natural ingredients. The ingredients list has not been revealed by the manufacturer but the claims are that it is all-natural and non-toxic.
This product has been doing its round for the last couple of decades, heavily promoted through infomercials and has sold hundreds of thousands of units.
Many swear by it, and many think it's a dud. 
Maybe their stains aren't tough enough, or they're simply not using it correctly.
In this post, we will dive deeper into the Amish Cleaning Tonic by DutchGlow and address all there is to know about this mysterious but extremely popular product.
Is It Safe To Use?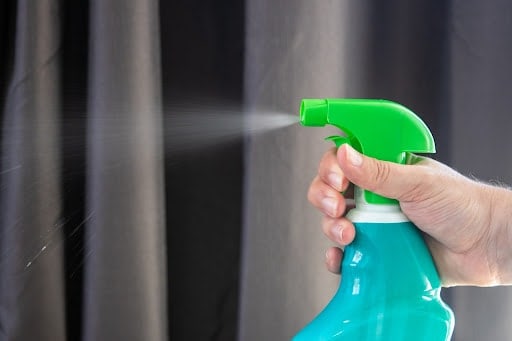 Although we don't know what's inside the product, we do know that it is safe to use.
In one of the infomercials of the product, the host uses his hand to clean the surface to show how safe it is to use and their number one promise is that it is non-toxic, non-abrasive and safe to use on any surface.
What Do You Get When You Purchase It?
The product comes with 2 bottles – one is the concentrated liquid and the other is an empty spray bottle that you can fill 8 times using the concentrated tonic diluted with water.
You will also get a steel cleaning pad also known as the Dutch Glow Power Pad.
Although on the front-end it seems like quite an expensive cleaner, it works out to be an economical option with how far you can stretch it.
How To Use Amish Cleaning Tonic
Mix 1 ounce of the cleaning tonic with 15 ounces of water inside the provided spray bottle. The empty spray bottle has indicative marks that'll help you measure the fluids precisely as you pour them in.
If you are dealing with tough stains, feel free to use more cleaning tonic but you won't find any situations where you need to use the tonic directly.
That'd also be a huge waste of your money.
For stains that are not easily removed, they suggest spraying it with the cleaner and leaving it there for 10 minutes before you begin scrubbing.
Why Use Amish Cleaning Tonic?
Conventional cleaners are made of toxic or hard to dispose of ingredients that can cause a mess or have long-term effects on the people inside the home.
The ingredients in Amish Cleaning Tonic are non-toxic, so it's safe for carpets, glassware, porcelain sink drains, shower tiles, and other materials.
You don't have to wear any type of gloves when using this product.
From the ease of use, to its safety, down to its effectiveness, it seems to be one of the best cleaners on the market, but the concern still remains…
What Actually Is Inside the Amish Cleaning Tonic?
One of the biggest cons about this product is that the manufacturer never revealed the ingredients list. The only thing we know is inside it is a type of alcohol called tetrahydrofurfuryl.
Aside from this, all they and their customers claim is that the product is all-natural, biodegradable and non-toxic.
In the time we live in, it's probably not likely that they scammed the world and are using toxic ingredients, but not listing what's actually inside it is good reason to be concerned.
Where Can I Buy Amish Cleaning Tonic?
You can buy it from the company's website or Amazon.
FAQs on What Is In Amish Cleaning Tonic
Is Amish Cleaning Tonic Safe to Use Around Pets and Children?
According to the manufacturers, it's an all-natural product that is safe to use on any surface and safe to use around pets and children.
How Often Should I Clean With Amish Cleaning Tonic?
Use it as often as you require. Make sure to dilute following the guideline using the provided spray bottle, and feel free to use it just like any other conventional cleaner
Can I Clean My Oven With The Amish Cleaning Tonic?
Heat the oven to roughly 200 degrees to break down some of the gunk. Spray it with the cleaning tonic, let it sit there for a few minutes and scrub it down with the power pad for a thorough clean.