You can get rid of the black streaks by pressure washing the gutters, cleaning them with white vinegar & bleach, and then using an oxidation removal cleaner.
Keeping a nice, clean, and welcoming home is what all of us want. Even though we spend hours keeping our homes sparkling clean, many of us think that gutters are something no one would notice. You can't be more wrong than that.
Everything in your home, from the pathway leading up the front door to your gutter, communicates something about your personality. When people walk up to your home, they see your gutters. Gutter is akin to nice, sparkling white teeth.
They complete your home and give it a lovely, looked after, and well-rounded look. We all have looked at our gutters several times and wished that we could figure out how to get rid of those dirty, ugly black streaks that are commonly known as tiger stripes and make our gutters look as good as new.
Let's see how you can remove black streaks from your gutters and make your home look picturesque and pleasing.
Removing Black Streaks from Gutters
The black streaks on your gutters are from the runoff of dirty roofs. They are a mix of decomposing leaves, dirt, and asphalt from the roof. The stains appear due to the electrostatic bonding of asphalt and tar from the roofing material to the aluminum metal of the gutters.
Cleaning your gutters can be tricky since they are exposed to sunlight, rain, dust, and other natural elements. Follow these simple techniques to clean them.
Use a Pressure Washer
Supplies Required
Method
The first thing you need to do is clean the gutters with a pressure washer. It is easy to use and you can clean off large sections very easily. 
Use a 2000 to 3000 psi pressure washer to thoroughly clean the gutters.
Use White Vinegar
Supplies Required
Method
Vinegar is great for aluminum gutters since it doesn't cause corrosion. Mix one part vinegar with three parts water. 
With the help of a sponge or a soft cloth, apply this solution to the surface of your gutters.
Let the solution sit for at least 15 minutes. 
Use your garden hose to rinse the solution off.
Use Bleach
Supplies Needed
Bleach
Water
Pressure Washer
Garden Hose
Method
The optimal way of cleaning mold and mildew off the gutters is by using bleach. Dilute bleach with water.
Spray this mixture onto the gutter.
Let the solution sit for 10 minutes.
Rinse well with the help of a pressure washer or your garden hose in case you don't have a pressure washer.
Use Professional Gutter Cleaner
Supplies Needed
Gutter Cleaner
Sprayer bottle
Scrubbing Brush
Water
Protective Mask
Protective Gloves
Method
After you have washed the gutter with water, vinegar, and bleach, it is time to get the cleaning agent out and brighten up your gutters. Put the cleaner in a sprayer bottle. 
Make sure that you are wearing protective gloves and a face mask since the chemicals in the cleaner can be harmful to you.
Set your ladder against one side of the wall. Climb up the ladder carefully.
Spray the mixture directly on the gutters.
Start with small sections – cover no more than three feet at a time. 
With the help of a hard, stiff-bristled brush, scrub the area thoroughly. 
Rinse the area with clean water. Move on to the next section and repeat the above-mentioned steps until you have a sparkling clean gutter!
How to Prevent Stains and Black Streaks on Your Gutters
Prevention is certainly better than cure. Instead of spending hours trying to clean your dirty gutters, you should take regular care of them to make sure that they remain in good shape. Here are a few things you need to keep in mind.
Ensure that your gutters don't overflow. When it rains, go out and inspect your gutters. If water is overflowing from the sides of the gutter, clean your gutter thoroughly to ensure proper water flow and thereby prevent black streaks.
At times, there is too much water after rain storms and the gutter can't handle it. The gutter guards don't let a lot of water flow through them, and thus, you have water overflowing. Moreover, your gutter can be clogged up badly.
The longer you let the black stains stay untreated on your gutters, the harder it will be for you to remove them. Therefore, we recommend that you clean your gutters once every month to keep them in excellent condition.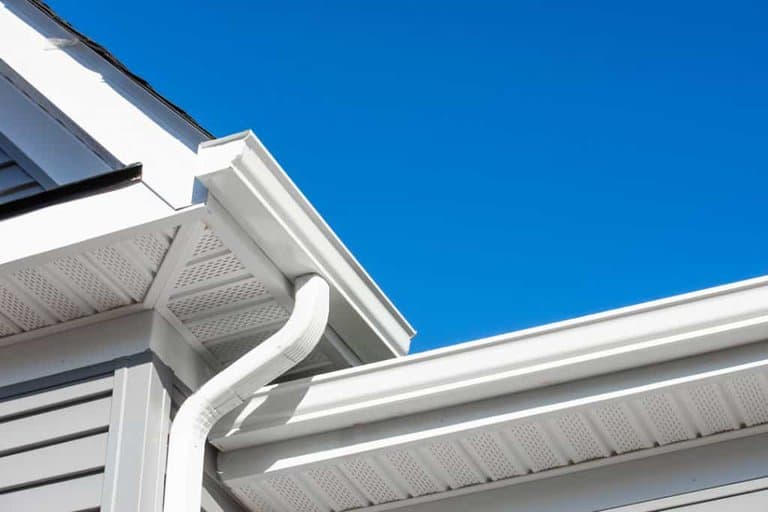 FAQs for Removing Black Streaks from Gutters
Why are there black streaks on my gutters?
Black streaks on your gutters are the result of leaves, twigs, debris, etc. that are continuously deposited on the roof and in the gutters. Over time, these things begin to rot and cause discoloration in your gutters.
What will happen if I don't remove the black streaks?
If you don't get rid of the black stains on your gutters, it will cause water damage to the roof and your entire home. When the gutters get filled with debris, they tend to overflow. This causes water to leak through the roof, and into your attics and the entire home.