With discolored and deteriorating panels, removing the drop ceiling in your basement may be suitable. It could add to your basement's height and spare you the hassle of its maintenance.
Also termed the fifth wall, drop ceilings are usually popular in commercial settings or basements. Interior designing whiz and owner of The Divine Living Space, Stephanie Goldfarb, used drop ceilings to turn an old building in Minnesota into her spectacular design studio. It looks DIVINE!
But not everyone is a fan. Many people think they are outdated and not practical enough. Whether you are considering keeping or removing the drop ceiling in your basement is up to you, but here are a few pros and cons you should consider before deciding.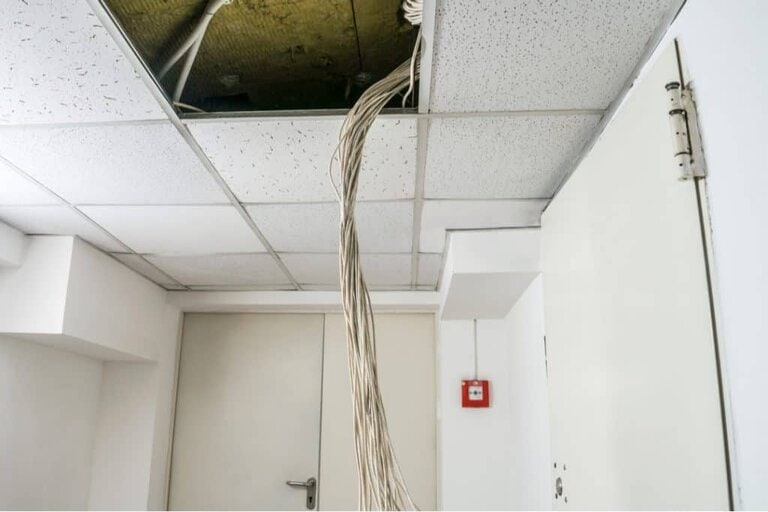 What Is A Drop Ceiling?
A drop ceiling, also called a suspended ceiling, is a secondary structure that hangs a few inches below the primary framework of a room's ceiling joists. It consists of steel wires, tiles, and panels and is usually easily removable.
The main objective of installing a drop ceiling is to conceal the beams, electric wires, tapes, plumbing, and other constructional imperfections.
Upsides Of A Drop Ceiling In Basement
There are a few benefits a drop ceiling offers in basements that you ought to consider before planning its removal.
1. Conceal Structural Imperfections
The primary purpose of installing a drop ceiling is to hide the structural imperfections such as exposed beams, wirework, plumbing, duct tapes, etc. The drop panels are installed at a distance of a few inches from the primary ceiling joists, and in this space, you can conceal all unsightly details.
However, if you are buying or renting a house, I recommend removing a few panels of the drop ceiling and checking the condition of the actual roof.
2. Easy Access For Repairs
You can simply remove a few tiles from the suspended ceiling and reach the target area whenever you need to repair a leaking pipe or a faulty wire on your basement's ceiling.
And after you are done with the restoration, putting the tile back on is just as effortless!
3. Soundproof Your Basement
If you plan on turning your basement into a studio where you and your band could jam, a soundproof drop ceiling will solve many of your dad's concerns.
The panels in a drop ceiling are soundproof and can minimize the noise leaving or entering the basement. Hence, your basement will be ideal if you want a long quiet sleep.
4. Easy To Install, Breezy To Remove
Installing or removing a drop ceiling in the basement is pretty straightforward. Although I recommend getting help from a professional, it can easily be your DIY project if you are crafty enough.
To install it, all you need to do is hang the suspended metal frame from your ceiling and fix the tiles or panels. We will discuss the steps of removing the drop ceiling ahead!
5. It Can Look Aesthetic
I know, I know. Most of us have a picture of an old, droopy, stained drop ceiling painted in our heads. But your suspended roof doesn't have to be like that. Instead, plenty of modern designs, materials, colors, and finishes are available that can transform your ceiling into a piece of art.
Downsides Of A Drop Ceiling In Basement
People still consider removing the drop ceiling in their basements despite the many benefits. The reason? There's a flip side of the coin too.
1. Less Space For Your Heads!
Since a suspended ceiling is "suspended" a few inches below the existing roof, it decreases the height of your basement. You can expect a loss of a minimum of two inches from your basement's vertical stretch.
This could be a considerable problem where the basements are already pretty low, and a drop ceiling could get in your way when you stand up straight. Also, if you plan on keeping tall furnishings or any other huge item in your basement, removing the drop ceiling may not be such a bad idea.
2. The Panels May Be Fragile
When the easy access to the ceiling above is the primary objective of installing a drop ceiling, you'll expect the tiles to be lightweight. However, cutting down the weight typically means less rigidity and a poor ability to withstand wear and tear.
3. It Needs Frequent Touch Ups
To maintain your drop ceiling in tip-top condition, you'll need to do quite a few touch-ups every few years. The tiles can stain if there's a leak in your plumbing and may disintegrate due to moisture. 
Also, the metal framework is subject to sagging with time or due to various atmospheric changes.
Steps For Removing Drop Ceiling In Basement
If you are bent on the idea of removing your drop ceiling in the basement, the job usually needs a few simple steps;
Remove the panels. The panels are usually resting lightly on the metal framework, and you can easily lift and remove one after another.
Take out the light fixtures. I recommend getting an electrician's help if you don't know your way around wires.
Cut past the T-shaped supports. The metallic framework consists of several "T's" that you can cut using a wire snipper.
Remove the framework. Once you are left with only the wires suspended from the ceiling, you can remove them by cutting with the wire snipper. Make sure you get any nails or other hardware that harbored the wires.
FAQs Related To Removing Drop Ceiling in Basement
How much does removing the drop ceiling in the basement cost?
You must keep a budget of $2 to $7 per square foot of drop ceiling. Also, you'll need somewhere around $60 to $80 to repair the underlying roof.
Can a drop ceiling hold some weight?
You can put 5 to 7 kilograms of weight on a drop ceiling. However, the panels are pretty lightweight and don't hold up to weight well.